beadwork & finishing studio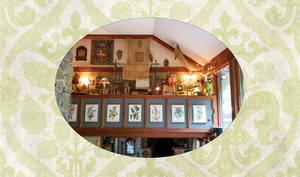 jen in the balcony studio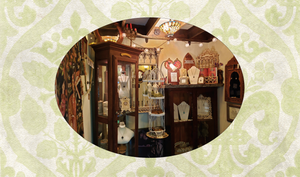 jen parrish-hill
I have been passionate about adornment as far back as I can remember. As a child I was mesmerized by the Egyptian wing of our local Museum, and a special exhibition on Pompeii when I was nine made a particular impression on me. Frozen in time. Weathered beauty.
At The School of the Museum of Fine Arts in Boston, I studied Art History, Stained Glass, Architecture & Metalsmithing ~ Parrish Relics are symbols of everything that has inspired me along the way.
My passion is in creating finely detailed sculptures that are then cast in the ancient lost wax method into recycled sterling silver and bronze. Each amulet is hand finished and patina is applied to create a time-worn appearance and one of a kind individuality.
Happily reunited with my first love David, constantly inspired by our home, the fairytale-like Frog Hollow. Surrounded by Nature in the foothills of the Berkshire Mountains of Massachusetts, nestled in a hemlock forest beside an ever-changing stream, with our rescue dog Grady, cats Shadow and Galatea, plus a few wild friends.
If any amulets are sold out, there may be more coming so please check back. Updates will be posted on facebook and instagram.
One of a kind and small batch amulets tend to sell out fast, please keep an eye on when new collections go live! ( signing in to an account may help the day of the launch) Thank you so much for your enthusiasm for what I do, so very appreciated.
You may find me at local art events in beautiful Western Massachusetts. These will be listed on the front page when planned.  In October, plan to visit the Parrish Relics studio at Frog Hollow along with over twenty other rural Artists on the Hilltown Open Studio Tour!
Unfortunately I am unable to create custom orders or take commissions at this time. Will announce it here and on social media if that changes in the future. Happy to make slight changes in bead options for current available amulets, or change the length of a chain. Feel free to ask!
All amulets are hand sculpted and carved in wax or clay, then cast in recycled bronze or sterling. I clean up the castings, remove sprues, add texture, antique with patinas. Then some are set with hand-cut stained glass, finished with beadwork or chain. Watch the "in the workshop" video at the end of this page for a brief overview!
"Visit artists who have chosen the beautiful and historic Western Mass Hilltowns as a place to live and work.
Two-hundred-year-old barns, white-steepled villages and mountain vistas show off their leafy best as you wind along country roads following hills, streams and waterfalls. Our home is as beautiful as our art."
I am a proud member of the vibrant Hilltown Arts Alliance and take part in our yearly Hilltown Open Studio Tour with around 30 other talented artists.
This is something I had always dreamt about and never expected to land in the perfect place for one, these scenic foothills of the Berkshire Mountains of New England. 2023 will bring our fifth year this Autumn, last year's event was our most successful and we hope to make this one
even better. Hope you can join us.
Once a year a magical pop-up shop appears in the forest at Frog Hollow just outside my workshop. See where Amulets are made and visit my talented neighbors during this fun weekend roadtrip event in picturesque rural splendor!
2023 DATES:
Saturday, Sept 30th & Sunday, Oct 1st
Hilltown Open Studio Tour
giving back
As a supporter of animal rights I try to use my work to help them in any way that I can, and greatly admire the people who devote their lives to making theirs better and safer from harm. A percentage of sales from every Amulet goes to an organization that does good in the world: for Animals, for Humans & for the Environment. So much help is needed in the world that it motivates me to work through sadness, enabling my ability to donate & feel proactive rather than submit to hopelessness.
Seeking out the many people & organizations who are working towards equality for all, advocating for animals & saving our fragile Earth brings light to darkness. ("Look for the Helpers", as Mr. Rogers famously said.) 
A percentage of sales from all amulets are donated to those who work to make the world a better place. Visit the #givingback page for more information and links to each non-profit, charity or sanctuary that they help. 
be kind.
This is my spiritual & business practice. To be Kind.
From creative materials, to packaging, to studio practices, I strive to make Parrish Relics as vegan and eco-friendly as possible, and am constantly seeking new ways to lessen my negative impact on the planet. Trying to be a Helper.
seen on
Over the years I have been lucky enough to create for some of my favorite writers, museums, the entertainment industry ~ and for romantics who daydream about Venice, obsess over flora and fauna, admire Medieval oddities, worship Pre-Raphaelite Bohemians or just enjoy a well adorned fairy tale. Head over to Relics Get Around or the Pinterest Page to see where Parrish Relics have appeared.